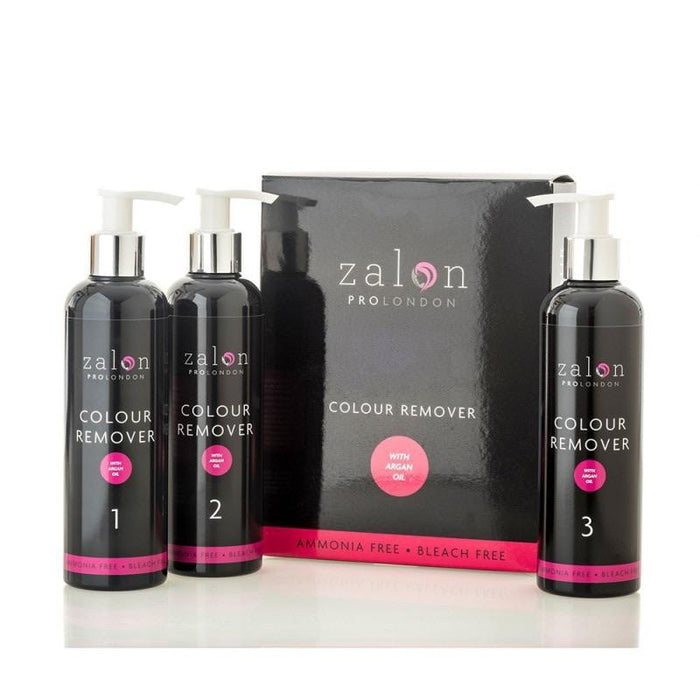 Zalon Pro London Colour Remover Salon Kit 3 x 250ml
3 x 250ml bottles 

Bleach Free. Ammonia Free. With Argan oil.
The quick, easy and healthy way to remove colour from the hair.  Ammonia free & bleach free results in no damage to the hair.
Contains Argan Oil to add shine and moisture to the hair.
Allows the stylist to start from a blank canvas.
How does Zalon Colour Remover work?
Synthetic colour molecules are very small, which allows them to penetrate cuticle. Once inside, an oxidation reaction takes place between the ammonia and the hydrogen peroxide causing the dye molecule to swell and become trapped and unable to escape the cuticle.  Think of it as an 'Alice in Wonderland' effect, where Alice is unable to get back through the door she came through due to growing so large.
Zalon reverses the oxidation process by shrinking the synthetic colour molecules, allowing them to escape from the cuticle and be washed away. This reveals the lightest previous natural shade of pigment.
The colour shown may be lighter than the natural virgin hair colour, as the bleach and ammonia from previous colourants may have lightened the natural pigment (as mentioned above).
Features, Benefits & Advantages:
The quick, easy and healthy way to remove colour from the hair.
Bleach free and ammonia free, resulting in less damage to the hair in comparison with other methods, such as bleach baths.
Contains Argan Oil which adds moisture and conditions the hair.
Removes all oxidised hair colour, regardless of how long it has been in the hair, both professionally applied colour and home colour.
Removes residue from shampoos, conditioners, styling products and pollution.
The hair can be coloured immediately after the process has been completed.
Fragranced to take away any harsh chemical smell.
Need it Tommorrow? - Order within